Part of our mission is to be a responsible, good neighbor in the communities where we operate. So when Hurricane Harvey devastated the U.S. Gulf Coast, our team members around the world joined the recovery efforts.
As part of the recovery, LyondellBasell supported the American Red Cross and donated much needed personal protective equipment to the Houston Office of Emergency Management.
At several of our sites, our colleagues volunteered in surrounding neighborhoods. In Channelview, our team cooked hot meals for the nearby Rio Villa neighborhood. Near our Houston Refinery, we donated food to The Bridge Over Troubled Waters women's shelter. Across the Gulf Coast, hundreds of our team members donated financially to recovery efforts or volunteered their time at local non-profits, schools and shelters.
Community volunteers at a local shelter store food for flood victims donated by LyondellBasell.
LyondellBasell team members from Lake Charles, LA, towed boats 150 miles and joined the "Cajun Navy" to rescue hundreds trapped by floodwaters across the Gulf Coast.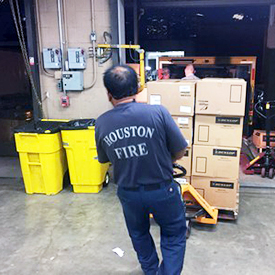 Supporting our communities takes many forms, and LyondellBasell was proud to donate food and much-needed equipment to Houston first responders in the wake of Hurricane Harvey.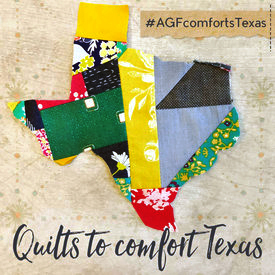 Our team in the Cincinnati Technology Center hosted a quilt drive to collect quilts and provide comfort to those affected by Hurricane Harvey.