LyondellBasell is advancing a wide range of sustainability efforts, including achieving a circular economy for plastics. Through recycling technologies and continuing to grow its sustainable solutions product portfolio, the company is helping address some of society's biggest challenges, such as climate change and ending plastic waste.
LyondellBasell has moved closer to reaching its sustainability goals with the launch of the Circulen product family of sustainable solutions. The Circulen portfolio is comprised of polymers which are made using renewable raw materials, such as vegetable oil and oil wastes, as well as advanced (molecular) and mechanically recycled materials. These polymers can be used to create an array of consumer products, help lower overall CO2 emissions and support the overall reduction of plastic waste.
The Circulen brand covers three types of polymer offerings:
CirculenRecover, a family of polymers made from used post-consumer or post-industrial plastics that are turned into high-quality polymers using a sort, shred, wash, mix and compounding process;
CirculenRevive, a family of polymers made from plastic waste that cannot be mechanically recycled. This process transforms plastic waste back into its molecular level and reuses it in a conventional process to produce brand new plastics used for all types of applications; and
CirculenRenew, a family of polymers made from renewable feedstock such as used cooking oil, which is not fossil-fuel based. This reduces the amount of CO2 used, helping to tackle climate change.
Read full press release here.
Learn more about our Circulen portfolio here.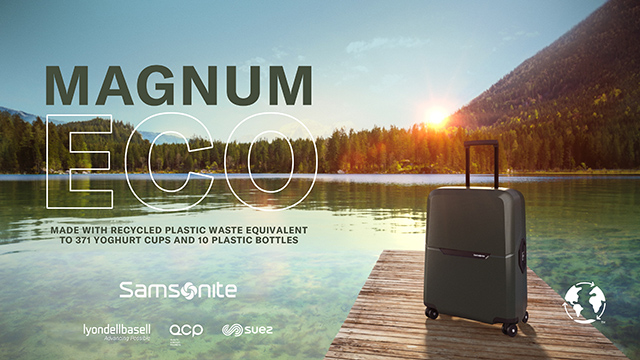 In a recent collaboration with Samsonite, Quality Circular Polymers (QCP), the plastics recycling joint venture of LyondellBasell and SUEZ, used its Circulen polymers and recycling technologies to help create a new suitcase, the Magnum ECO. The production of the Magnum ECO reduces the use of virgin materials and puts an emphasis on utilizing post-consumer plastic waste. With this state-of-the-art suitcase, Samsonite is taking a step forward on its sustainability journey.
"We are continuously looking for new ways to reduce our environmental footprint across our operations, said Christine Riley Miller, Samsonite's global director of sustainability." This includes innovating how our products are made so we play our part in repurposing plastic waste."
Learn more about the new Samsonite Magnum ECO here (currently available to purchase in Europe and the United Kingdom)
In addition to the launch of its Circulen polymer offerings and Samsonite Magnum ECO, LyondellBasell recently obtained the International Sustainability and Carbon Certification (ISCC) PLUS for all of its polymer sites in Europe. ISCC PLUS looks at overall traceability along the supply chain, as well as a company's use of recycled and renewable-based materials. LyondellBasell was recognized for its use of sustainable feedstock through the mass balance method, which tracks how much molecular-recycled and renewable based source materials go into the products. Richard Roudeix, LyondellBasell senior vice president of Olefins and Polyolefins for Europe, Middle East, Africa and India, said obtaining the certification is another example of LyondellBasell's efforts to set the industry standard for advancing the circular economy for plastics.
"This ISCC PLUS certification for our polymer sites in Europe is another milestone on our path to becoming an industry leader in the production and marketing of recycled and renewable-based polymers," said Roudeix.
Read full press release here.
This year, the theme for Earth Day is "Restore Our Earth". With collaborations like LyondellBasell and Samsonite, and the co-development of renewable products, the industry is moving in the direction of reducing overall emissions. With the use of Circulen polymers and other recycling technologies, LyondellBasell is doing its part to advance the circular economy, reduce resource use and enable a more sustainable future moving us closer to restoring our earth.