Rotterdam – April 8, 2021 – LyondellBasell (NYSE: LYB) today announced it has obtained the International Sustainability and Carbon Certification (ISCC) PLUS certification, one of the world's largest sustainability certification systems, for Wesseling, Germany, cracker and European polymer sites. As a result of this certification, LyondellBasell will offer mass balance certificates for its advanced (molecular) recycled and renewable-based Circulen polymers.
"In 2020, LyondellBasell announced our goal to produce and market two million metric tons of recycled and renewable-based polymers annually by 2030," states Richard Roudeix, LyondellBasell Senior Vice President of Olefins and Polyolefins for Europe, Middle East, Africa and India. "This ISCC PLUS certification for our cracker in Wesseling, Germany, and European polymer sites is another milestone on our path to becoming an industry leader in the production and marketing of recycled and renewable-based polymers."
The ISCC PLUS certification is well-recognized for its global certification of recycled and renewable-based materials and provides traceability along the supply chain. With the mass balance method, the company tracks how much advanced (molecular) recycled and renewable-based source material goes into the production process of its Circulen products and can attribute it to the final polymer via a Sustainability Declaration.
In addition to the ISCC PLUS certification, LyondellBasell can also offer a Carbon-14 analysis for certain products. Carbon-14 analysis is a reliable method to determine the percentage of renewable content in a physical product.
"In our journey to deliver on our sustainability ambitions, we support our customers in reaching their sustainability goals," states Willemien Terpstra, Director Polyethylene Europe. "The ISCC PLUS certification is a proven tool to verify compliance with sustainability and traceability requirements. This third-party certification is a confirmation of the concrete actions we are taking in support of a circular economy."
LyondellBasell will broaden the ISCC PLUS certification to its sites in other regions and expects to obtain it for its North American plants later this year.
Advancing the circular economy
The ISCC PLUS certification is part of the company's multi-pronged approach to advance the circular economy. A LyondellBasell pilot plant, commissioned last year in Ferrara, Italy, is conducting base research on advanced (molecular) recycling. Using specially-developed proprietary catalysts, LyondellBasell's proprietary MoReTec technology converts post-consumer plastic waste such as bottles and packaging into raw material, replacing fossil fuels, to create new plastic materials. These developments complement LyondellBasell activities in the field of mechanical recycling. Here, the Dutch joint venture QCP produces high-quality polyethylene and polypropylene grades from household waste. These plastics are equivalent to those made from fossil raw materials and are used, for example, in detergent bottles and the Samsonite Magnum Eco suite case line.
About LyondellBasell
LyondellBasell (NYSE: LYB) is one of the largest plastics, chemicals and refining companies in the world. Driven by its employees around the globe, LyondellBasell produces materials and products that are key to advancing solutions to modern challenges like enhancing food safety through lightweight and flexible packaging, protecting the purity of water supplies through stronger and more versatile pipes, improving the safety, comfort and fuel efficiency of many of the cars and trucks on the road, and ensuring the safe and effective functionality in electronics and appliances. LyondellBasell sells products into more than 100 countries and is the world's largest producer of polypropylene compounds and the largest licensor of polyolefin technologies. In 2021, LyondellBasell was named to FORTUNE Magazine's list of the "World's Most Admired Companies" for the fourth consecutive year. More information about LyondellBasell can be found at www.lyondellbasell.com.
Circulen is a trademark owned or used by the LyondellBasell family of companies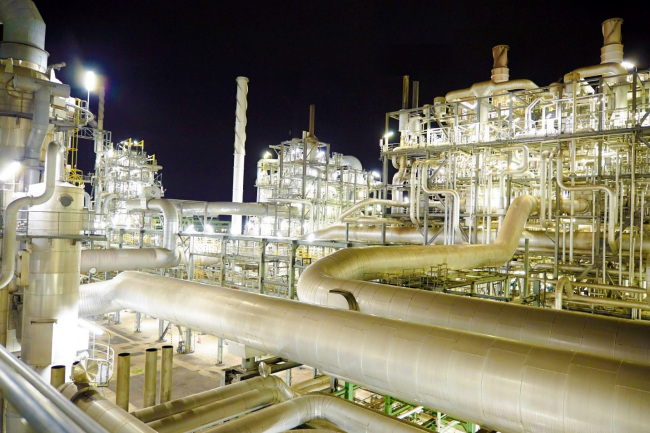 LyondellBasell Plant Wesseling, Germany