Contracts set to reduce emissions equal to the energy consumption of 90,000 households
Rotterdam, March 10, 2023 - LyondellBasell and Grenergy signed five long-term solar power purchase agreements (PPAs). Under the 15-year contracts, the Spanish renewable energy producer will supply solar energy from the La Cereal solar farm project, which is expected to be operational at the end of 2025. The agreements represent about 329,000 megawatt-hours (MWh) of solar power annually, equivalent to the annual electricity consumption of more than 90,000 European homes.
"With these agreements, LyondellBasell has now achieved 70% of our target to procure at least half of our electricity from renewable sources by 2030," said Willemien Terpstra, LyondellBasell vice president, Decarbonization. "In total, our PPA portfolio will generate over 2.9 million megawatt hours of renewable electricity and reduce our company's scope 2 greenhouse gas emissions by more than one million tons."
"This PPA will help to optimize the financing of Grenergy's largest project to date in Spain," said David Ruiz de Andrés, CEO of Grenergy. "Its development also strengthens the weight of our European portfolio, which we expect to double from the current 25% to 45% by 2025. A proven structure and ability to close PPAs is key to keeping up the pace of connections and achieving our strategic targets."
The 259 megawatts (MW) La Cereal solar farm project is part of the Clara Campoamor photovoltaic solar energy project, which Grenergy is developing between the Madrid and Castilla La Mancha region. The total installed electricity capacity will be approximately 575 MW, and it will become one of the largest photovoltaic parks in Europe.
These agreements demonstrate LyondellBasell continued progress towards the company's goal to reduce its scope 1 and 2 greenhouse gas emissions by 42% by 2030 and achieve net zero by 2050.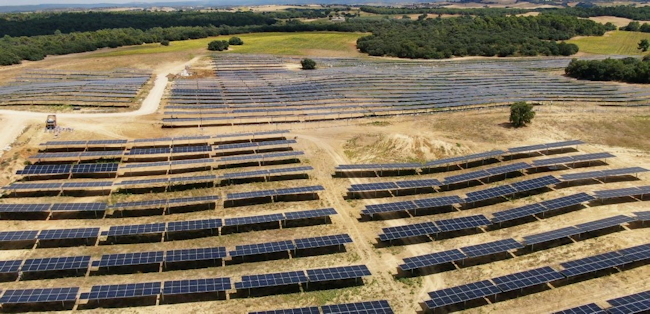 Photo from Grenergy Photovoltaic (PV) Solar Energy Project Los Escuderos as an example of a PV solar project similar to the one being built in La Cereal.
About LyondellBasell
As a leader in the global chemical industry, LyondellBasell strives every day to be the safest, best operated and most valued company in our industry. The company's products, materials and technologies are advancing sustainable solutions for food safety, access to clean water, healthcare and fuel efficiency in more than 100 international markets. LyondellBasell places high priority on diversity, equity and inclusion and is Advancing Good with an emphasis on our planet, the communities where we operate and our future workforce. The company takes great pride in its world-class technology and customer focus. LyondellBasell has stepped up its circularity and climate ambitions and actions to address the global challenges of plastic waste and climate change. For more information, please visit www.LyondellBasell.com or follow @LyondellBasell on LinkedIn.
About Grenergy Renovables
Grenergy Renovables is a Spanish company created in 2007, an independent producer of energy from renewable sources, mainly wind and photovoltaic, which has been listed on the Spanish stock exchange since 2015. Its business model covers all phases of the project, from development, through construction and financial structuring to operation and maintenance of the plants. The company has a global pipeline of more than 11.7 GW in various stages of development in the ten countries where it operates in the European market (Spain, Italy, Germany, Poland and the United Kingdom), North America (United States) and Latin America (Chile, Peru, Mexico, Argentina and Colombia).
Forward-Looking Statement for LyondellBasell
The statements in this release relating to matters that are not historical facts are forward-looking statements. These forward-looking statements are based upon assumptions of management of LyondellBasell which are believed to be reasonable at the time made and are subject to significant risks and uncertainties. Actual results could differ materially based on factors including, but not limited to, our ability to meet our sustainability goals, including the ability to procure electricity from renewable sources and reduce our greenhouse gas emissions; and the successful construction and operation of the facilities described in this release. Additional factors that could cause results to differ materially from those described in the forward-looking statements can be found in the "Risk Factors" section of our Form 10-K for the year ended December 31, 2021, which can be found at www.LyondellBasell.com on the Investor Relations page and on the Securities and Exchange Commission's website at www.sec.gov. There is no assurance that any of the actions, events or results of the forward-looking statements will occur, or if any of them do, what impact they will have on our results of operations or financial condition. Forward-looking statements speak only as of the date they were made and are based on the estimates and opinions of management of LyondellBasell at the time the statements are made. LyondellBasell does not assume any obligation to update forward-looking statements should circumstances or management's estimates or opinions change, except as required by law.