ZHAOQING, China, October 10, 2022, LyondellBasell (NYSE: LYB) and Genox Recycling today jointly announce they have signed a memorandum of understanding (MoU) to establish a joint venture (JV) to build a plastics recycling plant in Zhaoqing, Guangdong Province with a planned start up in 2023. The plastic recycling plant will use mechanical recycling technology to recycle post-consumer plastic waste and produce new polymers sold under the LyondellBasell CirculenRecover product portfolio. This JV aims to reduce the amount of plastic waste sent to landfills, incinerators or the environment, support the growing demand for circular and sustainable solutions and promote high-quality development of local recycling.
"Advancing a circular economy that enables plastic waste to be transformed into more sustainable solutions for our customers is important to us, and we are pleased to collaborate with Genox Recycling to make this happen," said Limin Fu, vice president of LyondellBasell China Polyolefins. "This new joint venture will help develop the local plastics recycling infrastructure in China and is an important milestone for LyondellBasell to contribute to its goal to produce and market two million metric tons of recycled and renewable-based polymers annually by 2030."
"Genox Recycling believes that innovation and collaboration are necessary ways to achieve carbon neutrality," said Jingfa Jiang, chairman of Genox Recycling. "We are delighted to join hands with LyondellBasell to lead the development of plastics recycling with a complementary mix of strengths from both parties and accelerate a circular and low-carbon future together."
This partnership is one of the recent initiatives LyondellBasell is taking to expand its recycling capacity globally. LyondellBasell will continue to work with partners along the value chain to enhance its local capabilities to supply circular solutions in China and contribute to the development of local circular economies.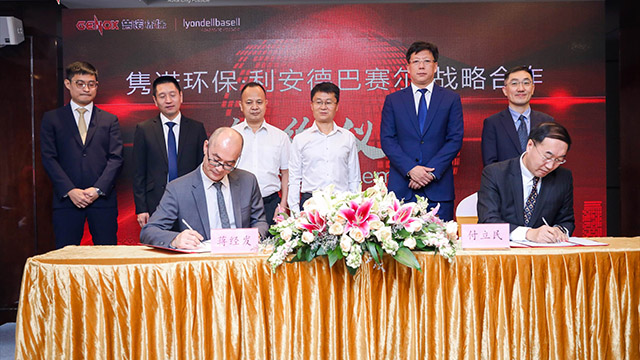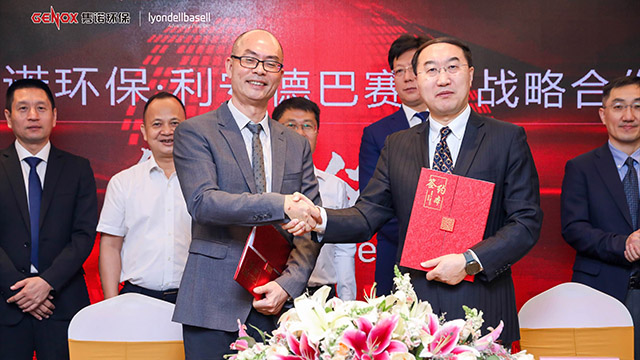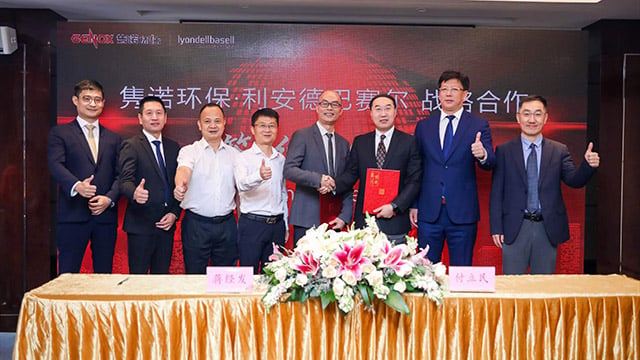 ABOUT LYONDELLBASELL
As a leader in the global chemical industry, LyondellBasell strives every day to be the safest, best operated and most valued company in our industry. The company's products, materials and technologies are advancing sustainable solutions for food safety, access to clean water, healthcare and fuel efficiency in more than 100 international markets. LyondellBasell places high priority on diversity, equity and inclusion and is Advancing Good with an emphasis on our planet, the communities where we operate and our future workforce. The company takes great pride in its world-class technology and customer focus. LyondellBasell has stepped up its circularity and climate ambitions and actions to address the global challenges of plastic waste and decarbonization. In 2022, LyondellBasell was named as one of FORTUNE Magazine's "World's Most Admired Companies" for the fifth consecutive year. For more information, please visit www.lyondellbasell.com or follow @LyondellBasell on LinkedIn.
ABOUT GENOX RECYLING
Genox Recycling is a leading manufacturer for integrated service provider of solid waste treatment industry in China. The company's product offering includes plastic washing, tire recycling, metal recycling, EV LiBs recycling and waste refrigerator recycling system.
FORWARD-LOOKING STATEMENTS
The statements in this release relating to matters that are not historical facts are forward-looking statements. These forward-looking statements are based upon assumptions of management of LyondellBasell which are believed to be reasonable at the time made and are subject to significant risks and uncertainties. Actual results could differ materially based on factors including, but not limited to, our ability to meet our sustainability goals, including the ability to increase production of recycled and renewable-based polymers; our ability to procure energy from renewable sources; potential governmental regulatory actions; and the successful construction and operation of the joint venture facilities described in this release. Additional factors that could cause results to differ materially from those described in the forward-looking statements can be found in the "Risk Factors" section of our Form 10-K for the year ended December 31, 2021, which can be found at www.LyondellBasell.com on the Investor Relations page and on the Securities and Exchange Commission's website at www.sec.gov. There is no assurance that any of the actions, events or results of the forward-looking statements will occur, or if any of them do, what impact they will have on our results of operations or financial condition. Forward-looking statements speak only as of the date they were made and are based on the estimates and opinions of management of LyondellBasell at the time the statements are made. LyondellBasell does not assume any obligation to update forward-looking statements should circumstances or management's estimates or opinions change, except as required by law.