Investment in QCP Grows the Market for Recycled Plastics
If there is a problem, LyondellBasell aims to find solutions. One of the current challenges of recycled plastic is finding ways to help brand owners stand out from the competition while meeting consumers' desires for a sustainable product.
"Our customers request light-colored materials that have a fresh and clean appearance that supports their product brand and stands out on the shelf in the supermarket," said Marcel van der Poel, LyondellBasell Marketing Manager for Polypropylene Injection Molding. "A dark colored plastic pellet has a limited market opportunity – any mechanical recycling company can deliver the same thing. But, we are taking steps to provide our customers with more recycled plastic color options."
LyondellBasell recently announced its sustainability goal of producing and marketing two million metric tons of recycled and renewable-based polymers annually by 2030. The company's shift in color options aligns with this goal and the ambitious goal of making all plastic packaging across Europe recyclable or reusable by 2030. To meet this goal, brand owners are looking into ways to use more recycled materials in their applications giving product designers like LyondellBasell an important role to play.
The task is to create packaging that is appealing, enhances the brand image, provide differentiation and offer a product that can be properly recycled. Giving plastics a second life beyond its initial use has been at the core of how Quality Circular Polymers (QCP), a 50/50 joint venture between LyondellBasell and SUEZ, operates. Specializing in the mechanical recycling of household plastic waste such as yoghurt cups, shampoo bottles or margarine containers, QCP produces high-quality recycled high-density polyethylene (HDPE) and polypropylene (PP) materials and is replacing virgin plastics in typical applications like bottles, buckets, caps and closures.
For QCP, the challenge to devise a solution also presents an opportunity. The post-consumer waste is delivered pre-sorted by SUEZ to QCP where it is cleaned, washed and shredded into smaller plastic flakes before they are melted into new plastic pellets. These flakes reflect the wide color spectrum of the collected waste representing the mixture of white detergent bottles that are processed together with red shampoo bottles, blue bottle caps and yellow margarine containers. Without further processing, the end result would be a plastic pellet that are various shades of dark grey, which offers product designers limited design opportunities.
QCP has been using a high-capacity optical sorting machine at their HDPE line since 2015 to create recycled HDPE material that is much lighter in color. The high-resolution cameras of this machine are able to sort out any plastic flake that is not white or transparent to create a material that is light grey in color and is marketed under the "Ivory" brand name. Following continued success in the marketplace with a material that offers product designers the opportunity for light-colored applications such as spray cans for household cleaners, the decision has been made to invest in color sorting equipment for the PP line and associated silos for the storage of the new, light-colored grades. Construction work started in July 2020, and we have now started to ship the new PP Ivory grades to customers.
Offering "ivory" material in HDPE and now PP, will enhance the image of QCP as a reliable supplier of high-quality recycled polymers that are consistent in color. It has the potential to grow the consumption of mechanically recycled materials into new volume applications and help LyondellBasell achieve its sustainability goals as one of the leading companies in circular economy.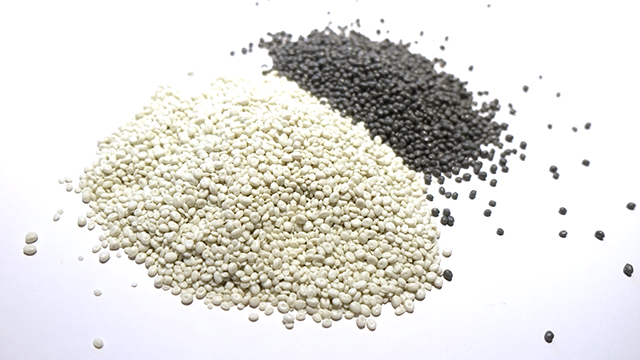 Grow Sustainable Solutions
We believe growing our portfolio of sustainable solutions will help address society's most pressing challenges. By doing so, we will continue to reliably produce products and offer solutions that are critical to improving the quality of life for billions around the world.